PUBG: PMWL EAST 2020 LEAGUE FINALS WEEK 5 DAY 1
Match 1 (Erangle):
BOX Gaming wins this match very comfortably. Team Secret and IND were fighting for too long as soon as TS eliminated IND. BOX spit players in 2-2 and a player was giving details from far. A grenade from BOX Break took the match from TS as he knocked two players with a single grenade. (16 kill Chicken Dinner)
Match 2 (Vikendi):
BOX gaming wonderfully played the match, although didn't win the match but got 2nd position. ULVLUP took a great fight against BTR. BOX was in a great position until the last man of TS took revenge for the last game and kill 2 players. (9 kill Chicken Dinner)

Match 3 (Erangle):
BTR winning this match with ease. They had the height advantage. They have to just spot and keep spraying. Absolute domination by BTR. No chance for any team to take the fight. Other than that their all players were alive. 12 kill Chicken Dinner)

Match 4 (Miramar):
A great disappointment for team OR. BTR Luxxy single headedly wiped them out of the game. On the other hand, TSM took the zone damage and RRQ finished them. Between all these BTR Luxxy took their team to 2nd position after losing other teammates early in-game (13 kills Chicken Dinner)

Match 5 (Sanhok):
Reject Scarlet's great victory. In Sanhok higher ground gives a lot of benefits as it is a short battleground. BTR beautifully took 17 kills and occupied 2nd position. Two beautiful grenades from RS took the match from BTR.(4 kill Chicken Dinner)

Match 6 (Erangle):
A great day for BOX GAMING. They occupied the 3rd position. Megastars eliminated BOX. BOX was in good height finish, 1 player. It became 4v3. Megastars wailed and knocked 3 players and 1 player was finished by ULVUP. Then it was easy work for ULVLUP as they knew the exact positions of megastars. (16 kill Chicken Dinner)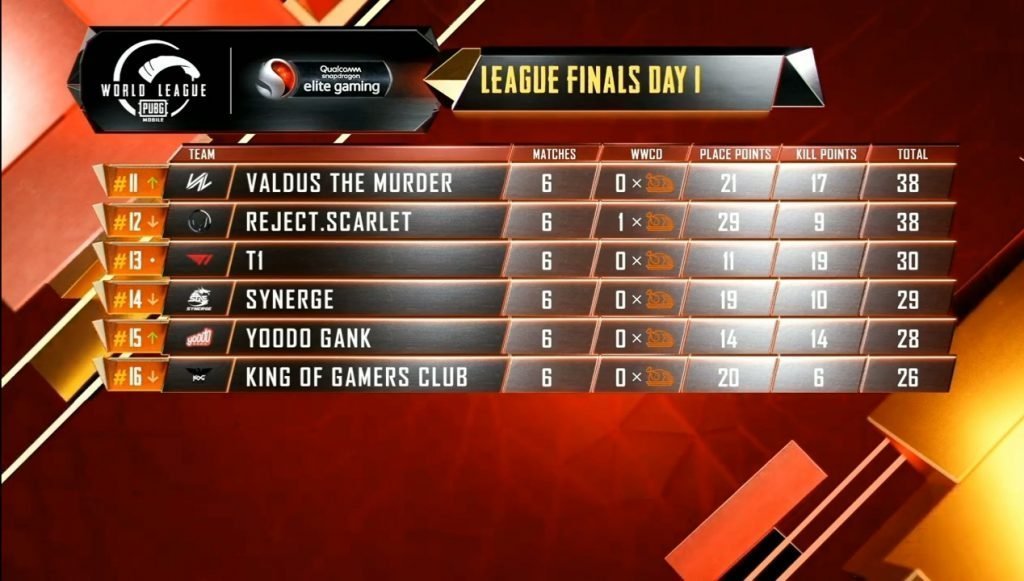 PUBG Mobile gamer can get all the cutting edge on PUBG Mobile Esports' authentic YouTube channel at 5:30 PM IST on the planned days.